NURSES COUNCIL OF ZIMBABWE:
Webiste-https://nursescouncil.co.zw/
Address;
16 Dale Road,
Adylinn,
Marlborough,
Harare, Zimbabwe
+263242309436 +263242300169
PAYMENTS SHOULD BE DONE THROUGH ECOCASH, SWIPE OR BANK DEPOSITS
Payment details forall process:
account details mentioned in site: https://nursescouncil.co.zw/fees-payments/
THE NURSES COUNCIL OF ZIMBABWE REVENUE COMES FROM THE FUNDS COLLECTED FROM NURSES/MIDWIVES.FEES ARE DESCRIBED BRIEFLY BELOW:
Renewal of Annual practising certiifcate:
According to the Health Professions Act chapter 27:19 (2000) it is mandatory for all nurses to renew their Practising Certificates with the Nurses Council of Zimbabwe annually. It is illegal for any nurse to practice without a valid Practising Certificate.The Practicing Certificates for SCNs, PCNs and SCTNs expire on the 31st of January each year and those of the General Nurses expire on the 31 March each year
Good standing/Foreign verifictaion process:
A nurse intending to work abroad can apply for a certificate of good standing.An applicable fee is payable on submission of the application form.Those nurses/midwives with cases of misconduct will have the document indicating that the nurse/midwife is not in good standing with the Council.While good recommendation is given to those nurses/midwives who are in good standing with the council. CGSs are mailed directly to the requesting nursing/midwifery body and not given to the individual nurse.
Note:
Ceificate of goodstanding or verifictaion is Posted directly from one registering board to another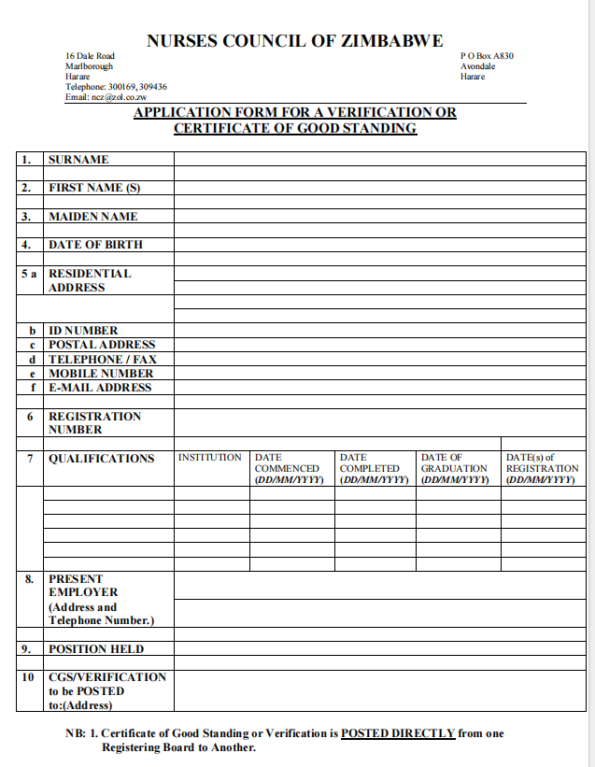 Documents Required:
Application form to be accompanied by certified copies of follwoing documents:
current practising certificate
Diploma/degree certificate
4.Registration certiifcate of qualifications registered with nurses council of zimbabwe
Evidence of request from teh requesting board
Council doesnot accept inadeqwuate and incomplete docuemnts
submit proof of payment of teh prescribed non -refundable processing fee
Action pack from courier of choice (if you require urgent posting)
Good standing certiifcate Model: