Directorate General of private health establishments:
Address:
Al – Khuwair, Next to the Zakher Mall Al – Khuwair
Office—-24946373—-Directorar General Office
Address of Nursing section:
The Directorate General of Nursing Affairs
The Directorate of Professional Regulation
Ministry of Health, PO Box 393 Code 100
Muscat, Sultanate of Oman
Telephone No: 00968 22357481/ 00968 22357476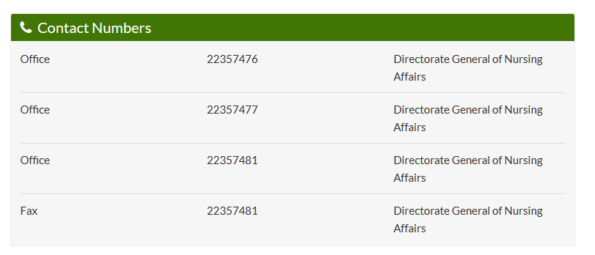 Application for Good standing certificate:
Those who are working in private hospitals and clinics:
Visit ministry of health -building for private establishments. Address given above.
Carry License copy and passport copy as wella s originals also.
*filled good standing certificate request form-https://www.moh.gov.om/en/-36
Download good standing certificate request form through above link fill that.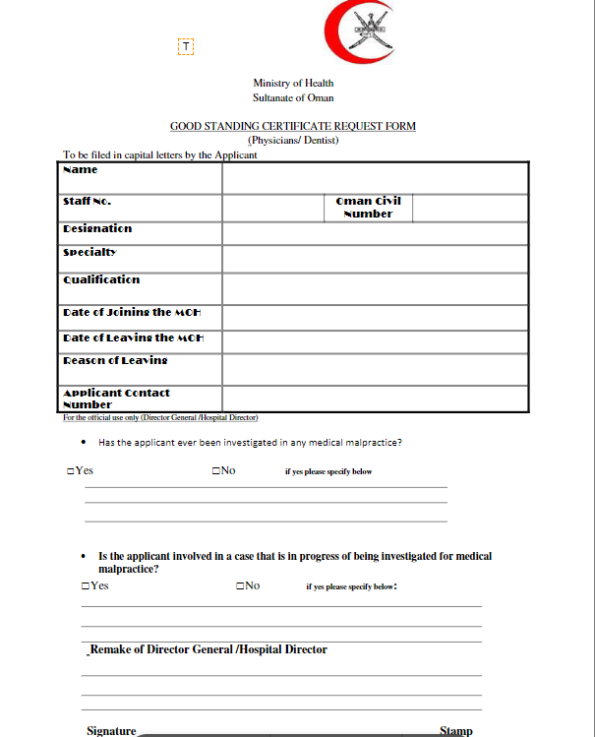 If you are still working you cna mention-still working .If hospital director remarks not tehre also no isuse.
They will issue good standing.
20 OMR pay
within 30 minutes they will issue good standing certificate to you.
mail id: If you face any troubleshooting in good standing:
Directorate General Nursing Affairs Office [email protected]
Good standing certificate model: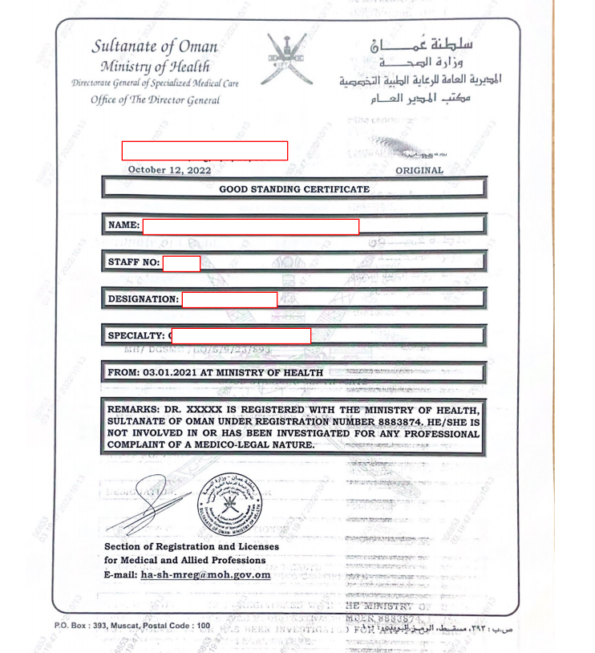 How to get Foreign Verification form filled from Oman minsitry of health : CCPS/CFFNS /WES …..
Those who are in musuct you cna visit directly above said address and do the process.
Those whoa re in other regions far from muscut , they have to do below steps.
seperate form for good standing and registration certificate
-good standing certificate is free and registration certificate 100 OMR has to apy
-payment slip keep safe
-filled form and payment reciept -upload through albarba online system
-along with that 10th, 12th, nursing certificates,home country registration -all these hard copy and soft copy –nursing directorate you ahve to submit in your region
-With this your foreign verification form -you haev to inform nursing directorate about verifictaion form
-Regsitration certificate and good standing certificate copy also you can keep
-from their they will send all forms to muscut -nursing directorate
with in 2 weeks you will get it
-you will get call from nursing directoraet form is ready
-verification filled form , you have to keep in envelop and seal should be there in the envelop and you can send couirer to concerned authority
nursing regsitration certificate validity is for 10 years
If you have any suggestions, comments, kindly notfy as comments. Thank you