Step 1: Dataflow Procedure
Sign up on the DHA/MOH/HAAD website and check your eligibility to obtain a unique ID.
Apply for dataflow verification and the CBT exam using your unique ID.
Dataflow verification involves verifying your education, internship, license, and experience from their original sources. Submit the required documents for verification.
Documents required for dataflow verification: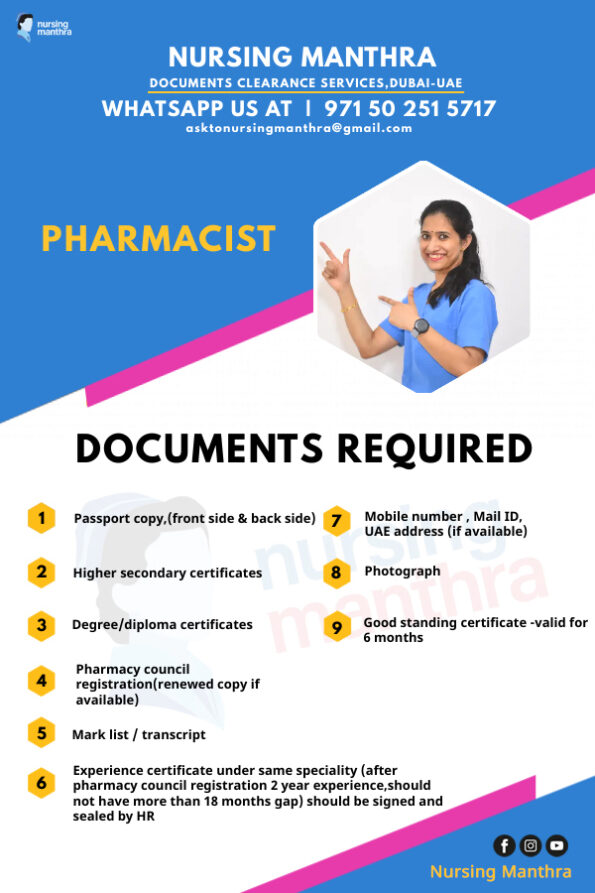 Step 2: Process of Dataflow
Sign up for a Dataflow account with your email and unique ID.
Upload a signed letter of authorization.
Create a new case and select your profession (pharmacist).
Fill in all details of your education, internship, license, and employment.
Upload all required documents with precise information.
Submit the application and make the payment using international debit or credit cards.
Step 3: CBT Assessment
Unlike MOH/HAAD, DHA exams can be taken without completing dataflow. You can attend the exam before starting dataflow if you wish
Use your unique ID to get the eligibility number from the Prometric website.
Schedule the exam and choose your preferred location, checking for available exam dates.
Pay the exam fee and make sure to print or save your application details.
Attend the exam, and results will be available within 1-5 days. You have a total of 3 attempts to pass the exam. If you fail, you need to book the exam again and pay the fee.
Step 4: Submission for Eligibility Letter
Submit your application for the eligibility letter.
Include a good standing certificate from the pharmacy council where you last worked, a basic life support certification, passport, photograph, higher secondary certificate, and resume.
Check whether your dataflow report is linked with DHA/MOH/HAAD. If it is, proceed with the submission and make the payment (approximately 230 AED) for the eligibility letter.
After verification, the DHA/MOH/HAAD will issue your eligibility letter.
Upon completing the dataflow verification, CBT assessment, and obtaining the eligibility letter, you can start applying for pharmacist jobs in Dubai. Your employer will assist you with the licensing process.
For further assistance with the DHA licensing process, feel free to contact via WhatsApp.