To become a dentist and obtain a Dentist license & Dataflow process, follow these steps:
Step 1: Data Flow Verification of Your Documents
Sign up with the website and check your eligibility. Once eligible, start the application process and receive a unique identification number.
Apply for data flow verification and the CBT exam using your unique identification number.
Data flow verification involves verifying your education, internship, license, and experience from their original sources. The data flow team may contact your institutions for verification.
Required documents for data flow verification:
General Dentist: Degree/Post-graduate certificate (e.g., BDS, DMD, DDS, or equivalent).
Specialist: BDS, DMD, DDS, or equivalent, and completion of a recognized specialty certificate (as per the table).
Experience Certificate: UAE nationals need one year of experience, and non-UAE nationals need three years of experience post-qualification.
Mark list/transcript: Submit your academic marks or a transcript from your college, signed and sealed by the principal, with internship details.
License: Submit a valid home country license, including initial and renewed copies if applicable.
Experience Certificate: Successful internship completion and two years of clinical experience with minimal gap.
Step 2: Process of Data Flow
Sign up for a Data Flow account with your email and unique identification number.
Upload a signed letter of authorization.
Create a new case and select your profession (dentist).
Fill in all details of your education, internship, license, and employment.
Upload all required documents with precise information.
Submit the application and make the payment using international debit or credit cards.
Step 3: CBT (Computer-Based Test) Assessment (Exam)
Visit the Prometric website.
Generate eligibility for the CBT exam.
Schedule the exam and make the payment.
The exam results will be published within 1-5 days.
Step 4: Submission for Eligibility Letter
Check if your data flow report is linked with site. If yes, proceed to the next step.
Submit the following documents for eligibility letter:
Good standing certificate from the dental council of your last workplace.
Basic life support certification.
Passport and photograph.
Higher secondary certificate.
Resume.
Other required documents are :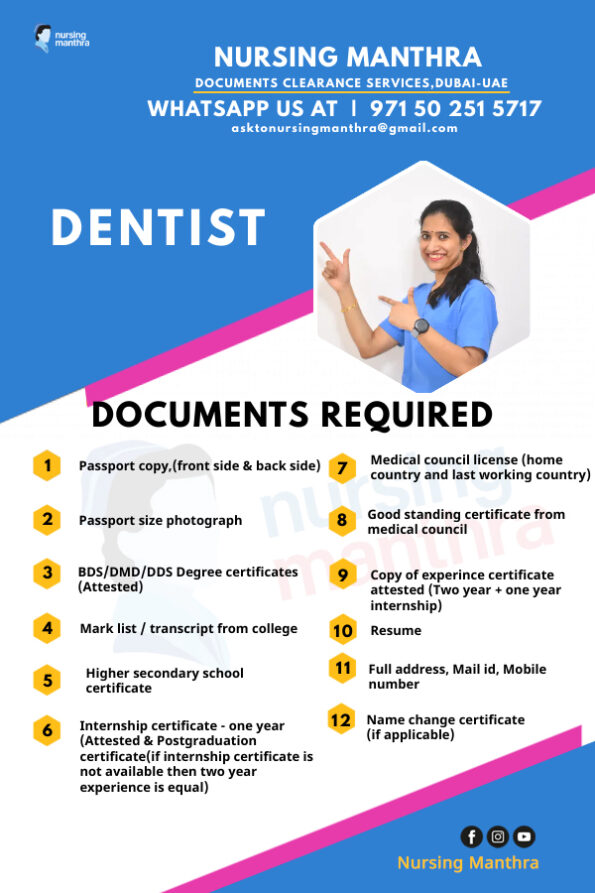 After completing both the data flow verification and the CBT exam, apply for the eligibility letter. Once you receive the letter, you can start applying for dental jobs. When you secure a job and receive an offer letter, your employer will assist you in the licensing process.
For further assistance with the licensing process, feel free to contact me via WhatsApp. Best of luck for a successful career !