DHA application process steps:
Documents Required for the process:
Gather all necessary documents: Collect all the required documents, such as educational certificates, professional qualifications, work experience certificates, passport copies, and any other relevant paperwork. Each professional title will be having different documents list. So once you contacted us through WhatsApp, will share documents list particular to your profession.
Check for the experience gap: Ensure that there is no more than a 2-year gap in your professional practice. If there is a gap, you may still apply for the process, but you must complete the required experience within the 2-year gap ending and activate your license.
Data flow verification: This step is crucial to ensure the authenticity and accuracy of your provided information.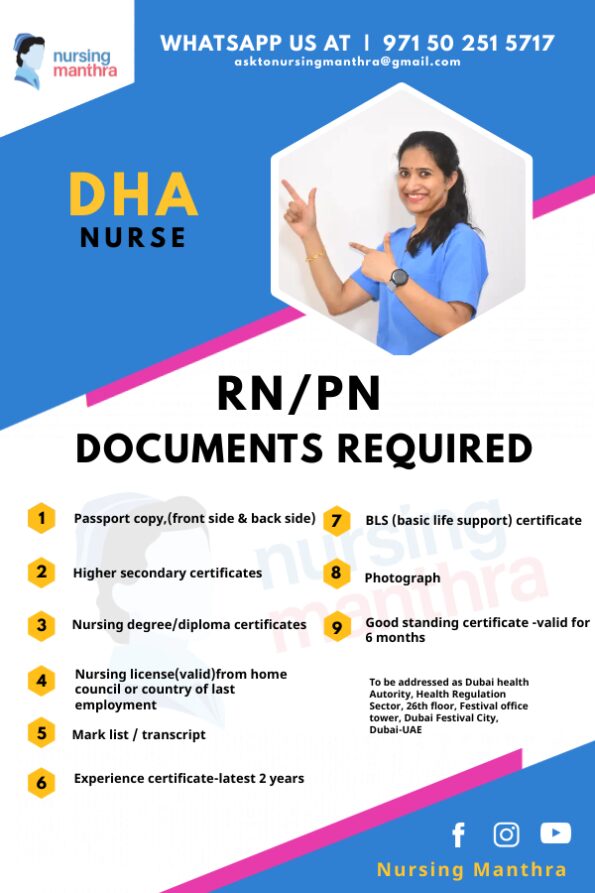 Attend Prometric/oral exam: Based on your professional title, you will need to take a Prometric exam or an oral exam. The validity of the exam is 5 years, and you are allowed a total of 3 attempts. If you fail all three attempts, you must wait for 2 years before trying again.
Apply for eligibility letter: Once you have successfully passed the exam and completed all other requirements, you can apply for the eligibility letter. The validity of the eligibility letter is for 1 year, and it can be renewed based on terms and conditions.
Search for a job: With the eligibility letter in hand, you can start searching for a job in Dubai. When you find an employer willing to hire you, they will activate your DHA license on your behalf.
Total application fees:
DHA EXAM FEE for Nurses both AN and RN-240 USD
DHA DATA FLOW DEPENDS ON YOUR DOCUMENTS – Normal amount 1100 AED
Dha eligibility letter fee-220 AED
Any additional services and associated fees will be discussed once you contact us. If you require any extra services, such as applying for a good standing certificate, the fees for those services will be added accordingly. Rest assured, we will provide you with all the necessary information and options to help you through the process effectively. Please feel free to reach out to us if you have any questions or require further assistance.
You can contact us through WhatsApp using the contact buttons given in the right side of the website.
Please send the documents to my email address if you are interested : [email protected]