This blog will guide you through the process of renewing the MOH evaluation letter for all healthcare professionals. It is important to have an electronic yearly facility license (private electronic license) and obtain good standing certificates from MOH for this process. If you have resigned from your previous job, please note that the experience gap should not exceed two years. This renewal is applicable to all healthcare professionals holding an MOH evaluation letter.
Steps of Process:
Apply for a good standing certificate. Once you receive it, proceed to apply for the MOH evaluation through the MOHAP (Ministry of Health and Prevention) website.
Upload all the required documents and pay the registration fee. The registration fee varies based on the profession, i.e., for nurses, it is 260 AED, for technicians, it is 310 AED, and for physicians, it is 510 AED.
MOH will verify your documents and provide the dataflow verification link. The dataflow payment link will be around 1000 AED to 1100 AED, depending on the number of documents. The dataflow report will include verification of additional documents like MOH experience, MOH good standing, and MOH license.
Pay the evaluation letter fee once you receive your dataflow report.
You can download your new evaluation letter from the "My Certificates" option.
Find a job, and your employer will activate your private license.
Documents Required for the Process: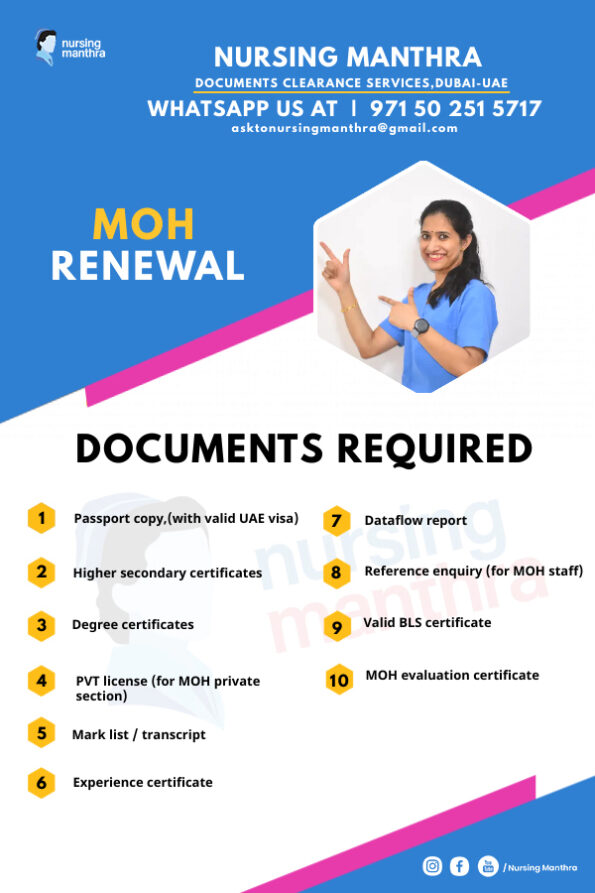 Passport copy
Passport-size photo
Higher secondary certificate
Diploma/Degree certificates
Mark list/Transcript
Home country license and its renewed copy
Experience certificate from the past 2 years under MOH facility
Good standing certificate from MOH
MOH electronic private license
Valid Basic Life Support (BLS) certification
Previous dataflow report
Old MOH evaluation letter
You may watch the video blog related to this post here :
If you need any assistance with the MOH evaluation letter renewal for all healthcare professionals, kindly contact Nursing Manthra through WhatsApp.