In case your degree certificate is lost, which is recieved from RGUHS. What to do in this case? .Please read this blog to know more details about how to apply for duplicate degree certificate.
Application process for:
correction of name in the marks card
consolidated marks card
provisional degree certificate
Duplicate marks card
Transcript/attestation of the marks card/degree certificate by the office of the registrar(Evaluation)
Rank certificate
Provisional pass certificate
Steps of application process:
Webiste for RGUHS: http://www.rguhs.ac.in/

Address of RGUHS:
Rajiv Gandhi University of Health Sciences, Karnataka
4th 'T' Block, Jayanagar
Bengaluru – 560 041
Karnataka
India
Registrar mail id- [email protected]
Step-1 :
You have to download the Prescribed "Application form Duplicate Certificate" from RGUHS website. http://www.rguhs.ac.in/Exam/convocation/2018/APPLICATION%20FOR%20DUPLICATE.pdf.
Take a print out and fill up your details, and sign it.
Submit the Application to your College Principal and get his/her signature and Seal of the College/Principal.
Otherwise request your College Principal and obtain her attested Application form by post.
This original Application to be submitted to RGUHS.
Application form given in KSNC website: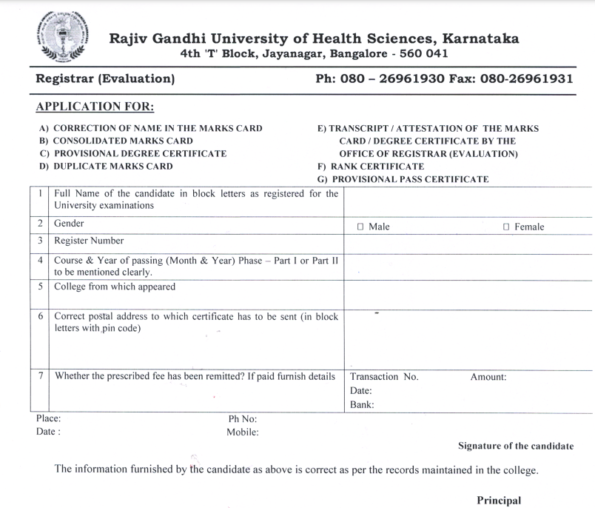 Documents to be submitted for each process:
Step-2 :
Give a written complaint to your nearest Police Station, or at the nearest police station you lost your Degree certificate.
Register a complaint, and get an FIR copy. You can register your FIR thru online, if you are in Bangalore. Take print out of the FIR.
Step-3:
Prepare an Affidavit on Rs 100 stamp paper giving details of the lost Certificate. You are preparing this affidavit for requesting the University to get a Duplicate copy of the certificate. Get the Attestation from a First Class Judicial Magistrate on it, or get it Notarized.
Step-4:
Payment of Fees for Duplicate Certificate thru Bill Desk
Fill up all fields and proceed to pay the fees and complete payment online.
Payment Receipt with Transaction Reference Number will be forwarded to your email.
Enter the Number in the Online Application Form.
Step -5:
Submit following documents
1. Prescribed Application form duly filled in by the student and signed in and sealed by College Principal
2. Copy of police complaint/FIR copy
3. Notarized Affidavit (Rs100)
4. Details of payment made online
5. Passport size photo
6. Copy of lost Degree Certificate
7. Copies of All Marks Cards
8. Course Completion certificate
You can send it by Registered Post/ or Speed Post, if you are not availabel in India. You can submit the documents at the counter of the RGUHS personally also.
You will get certificate like this,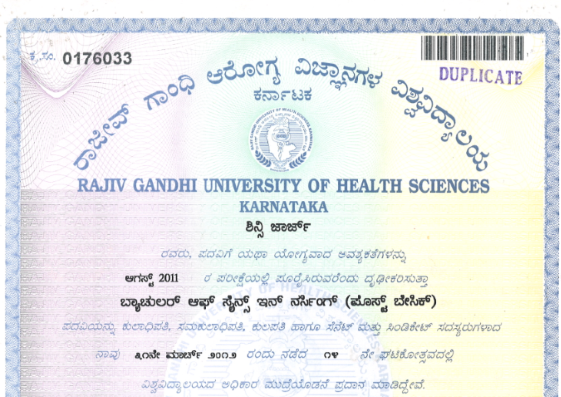 If you haev any doubt in this , kindly contact with RGUHS, through mail or phone call. Always better to go directly to RGUHS to get the process done. When you are going to recive original certificate , you must produce original ID card of yours.
I hope this blog is helpful, Thank you.