How to become RN in Australia-step by step guide
"AHPRA, which stands for the Australian Health Practitioner Regulation Agency, is the organization responsible for implementing the National Registration and Accreditation Scheme across Australia. As a registered nurse looking to get licensed with AHPRA, you'll need to follow these steps:
Step 1: Self-Assessment on the AHPRA Portal
Step 2: Fee Payment
Step 3: Orientation 1
Step 4: Portfolio Submission
Step 5: MCQ Exam (NCLEX)
Step 6: OSCE (Objective Structured Clinical Examination)
Step 7: Final Registration
Step 8: Orientation 2
Required Documents: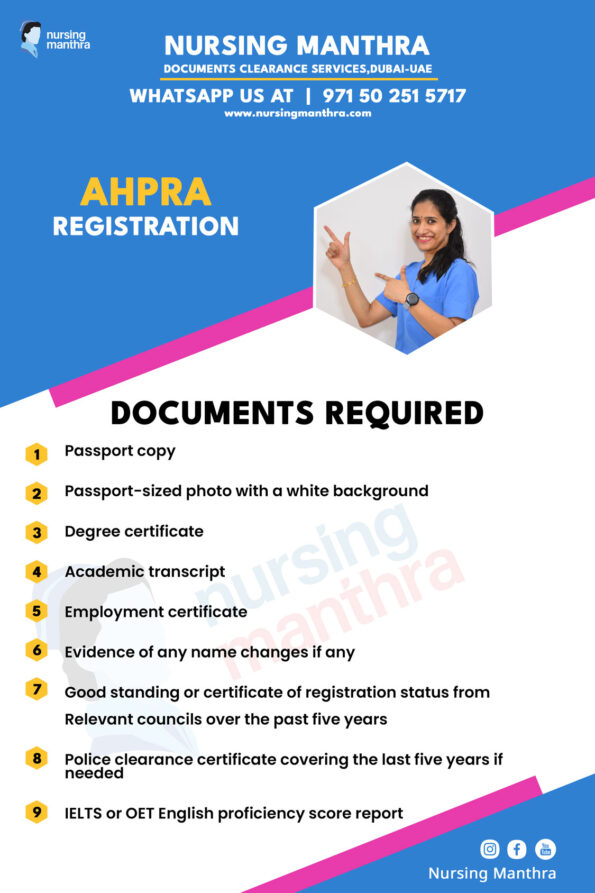 1. Passport copy
2. Passport-sized photo with a white background
3. Degree certificate
4. Academic transcript
5. Employment certificate
6. Evidence of any name changes if any
7. Good standing or certificate of registration status from relevant councils over the past five years-need at last
8. Police clearance certificate covering the last five years if needed–need at last
9. IELTS or OET English proficiency score report–need at last for registration process
Fees for the Process:
– Initial application fee: 640 AUD
– Pearson VUE registration fee: 200 USD
– NCLEX exam scheduling fee: 150 USD
– OSCE fee: 4000 AUD
– Final registration fee: 489 AUD
Additional fees to consider include nursing council verification or good standing fee, police clearance fee, notary attestation fee, and IELTS/OET exam fee. Don't forget to budget for visa charges, airfare, accommodation, and living expenses once you arrive in Australia.
"Regarding AHPRA's Nursing and Midwifery Board, there are three streams to consider:
– Stream A: Typically includes candidates who studied nursing in countries like the UK, Australia, and the USA, exempting them from NCLEX and OSCE.
– Stream B: Applies to candidates from countries such as India, Nepal, the Philippines, and others, requiring NCLEX and OSCE.
– Stream C: Pertains to diploma candidates who must complete additional courses in Australia to meet Australian standards. Approved program lists are available on the AHPRA website.
"If you need assistance for license application throughout the entire process, including OET and NCLEX study materials, feel free to contact Nursing Manthra via WhatsApp.