Welcome to today's article, where we will explore the process of becoming a licensed speech therapist in Dubai, United Arab Emirates (UAE). If you're passionate about helping individuals overcome speech and language challenges, Dubai's healthcare sector offers exciting opportunities. However, to practice as a speech therapist in Dubai, you must follow a rigorous licensing process. In this comprehensive guide, we will walk you through the steps involved in obtaining your license as a speech therapist.
Step 1: Sign Up and Check Eligibility
Your journey toward becoming a licensed speech therapist in Dubai begins with signing up on the relevant licensing authority's website. Before starting the application, it's essential to check if you meet the eligibility criteria. Requirements may vary depending on your qualifications and experience. Once you confirm your eligibility, you can proceed with the application and receive a unique identification number. This number is crucial for the subsequent steps of the process.
Step 2: Data Flow Verification
The licensing process comprises three crucial steps, with the first being data flow verification. Data flow verification, often referred to as Primary Source Verification (PSV), involves validating your documents directly from their source. Here are the documents you will need for data flow verification: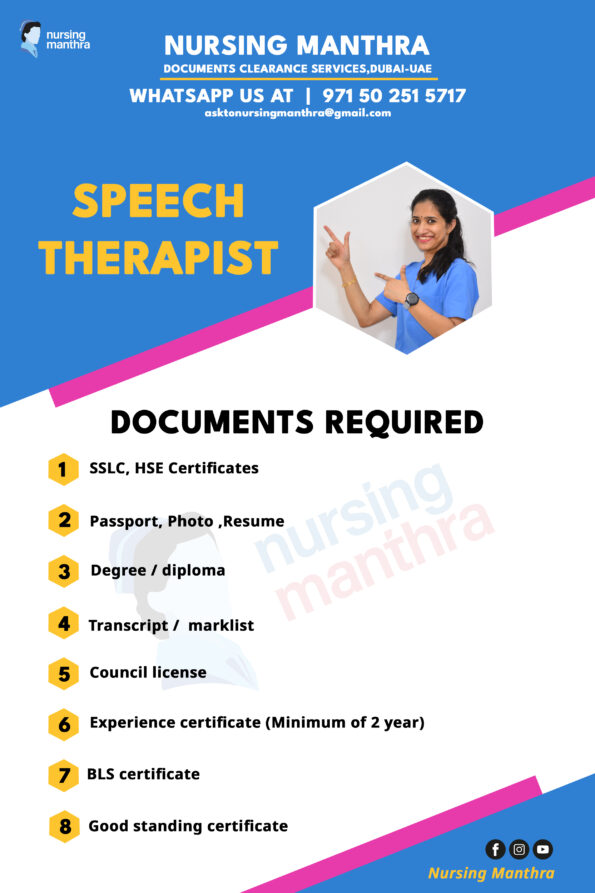 BSc in Speech-language pathology/ Speech and language therapy /Speech pathology /Speech therapy/Speech.
Minimum of two (2) years of post-qualification experience in a related field within a hospital or clinical setting.
BSc in Communication or Psychology or Linguistics and a Master's program in speech-language pathology from an accredited educational institution, college, or university.
Minimum of one (1) year of post-qualification experience in a related field within a hospital or clinical setting.
Mark list/transcript: If you lack a mark list from the university, a transcript will suffice. Ensure that the transcript is obtained from your college, sealed, and signed by the principal. It should include details of subjects, marks, internship information, and more.
License from your home country's licensing council, including both the initial and renewed copies if applicable. If your license has expired, renew it before applying for verification. If you have worked in another country, you can also submit a license from your last working country.
Experience certificate: A minimum of 2 years of experience with a maximum gap of 2 years. It is advisable to have continuous experience with one employer for two years. Authenticity is crucial; obtain an experience certificate from the HR (Human Resources) office or the Medical Director if your institution lacks an HR department.
Process of Data Flow Verification:
Sign up for a licensing Data Flow account using your email and unique identification number.
Upload a signed letter of authorization.
Create a new case and select your profession as a speech therapist.
Start your application, providing comprehensive details of your education, internship, license, and employment history.
Carefully upload all the necessary documents with precision.
Submit your application by making the required payment, which can be done using international debit or credit cards.
Step 3: Oral Exam Assessment
After getting a positive data flow report ,then apply for oral examapplication in DHA, it cost 220 aed . Once approved for oral Exam ,it cost 270 AED for exam fee. Usually oral exam conducted through MS teams software video call. Exam result will be published in site with in 3 days.
In MOH UAE, after making payment for data flow , within 3 working days , you will get option to select exam . Written or oral exam. No prometric exam mentioned insite. Usually first attempt exam fee is free. Thennext attempt onwards aroudn 300AED exam fee will be there. Exam result will get published in site around 1 week.
Step 4: Submission for Eligibility Letter
Once you have successfully completed exam, your eligibility letter will be generated in sheryan portal.
In MOHAP, alsoevaluation letter will be generated automatically ,once you cleared yoru exam.

Becoming a licensed speech therapist in Dubai is an achievable goal, but it requires diligence and adherence to the licensing process. Once you have your license, you can start applying for positions in Dubai and UAE and embark on a fulfilling career path in the field of speech therapy. We wish you the best of luck in your pursuit of a bright future as a speech therapist in the UAE!
If you need any assistance with the licensing process, don't hesitate to contact us through WhatsApp