Are you considering a career as a nurse in Canada? The process may seem daunting, but this guide will break it down step by step, ensuring you have a clear understanding of the requirements and steps to take.
Understanding the Timelines and Fees
Before diving into the registration process, it's essential to comprehend the timelines and associated fees. The National Nursing Assessment Service (NNAS) is your primary contact for the assessment process.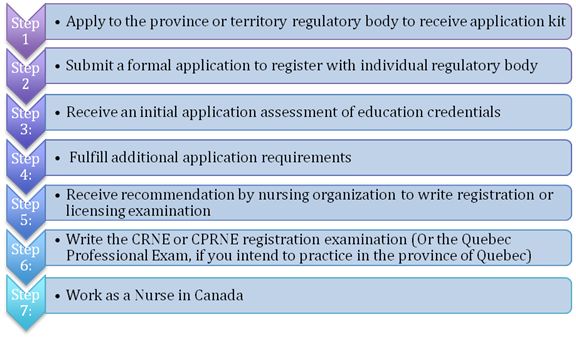 Main Application Order: Start with the Main Application Order, selecting your nursing group and preferred province. This application remains active for up to 12 months from the date of submission, provided all required documents are received within this timeframe.
The Application Timeline
The timeline for your application can vary depending on several factors:
Document Submission: The clock starts when NNAS receives all your required information and acceptable documents.
Language Proficiency: If necessary, you'll need to complete a language proficiency test, and the timeline depends on when you successfully pass this test.
Document Translation: If any of your original documents are in a language other than English or French, they must be translated, which can add time to the process.
Keep in mind that after receiving your Advisory Report, you'll need to apply to the regulatory body in your chosen province. Each province may have additional requirements and timelines, extending the process by up to another 12 months.
Top Tips for Efficient Application Management
Read the applicant handbook to fully understand the process.
Gather required documents before starting your application.
Reach out to the support team for any questions.
Follow the step-by-step guide for a structured approach.
Understanding the Costs
In addition to the main application fee, there are other potential costs throughout the process. These may include document translations, appeals, advisory reports, and more. Refer to the Application and Other Fees section on the NNAS website for detailed information.
Submitting Your Proof of Identity
You must submit two notarized copies of original identification documents, complete with your signature. Notarized copies in Canada must be prepared by a notary public or lawyer, while outside Canada, government-approved officials must handle them.
Acceptable forms of photo identification include a passport, driver's license, or other government-issued ID. Other acceptable documents include a birth certificate, legal name change affidavit, marriage certificate, or divorce decree. Ensure at least one form of identification includes a current photo.
If any documents are in a language other than English or French, they must be translated by a certified translator into one of these languages.
Creating Your Online Account
The first step in the process is to set up an online account with NNAS. This account allows you to complete and track your application, view emails, check language test results, and update your contact information.
Overview of the Application Process
The application process involves several forms that need to be completed and submitted:
Nursing Education Form: This form must be sent to each nursing or nursing-related post-secondary school you attended outside of Canada. The school officials should complete it and send it directly to NNAS.
Nursing Registration Form: Send this form to all nursing licensing authorities where you were previously licensed or registered outside of Canada. Each authority should complete it and send it directly to NNAS.
Nursing Practice/Employment Form: This form must be sent to all employers you've worked for in the past five years. Employers should complete it and send it directly to NNAS.
Language Testing Results: If English or French is not your first language, you'll need to complete language testing and have the results sent directly to NNAS from an approved language testing agency.
Canada PR Visa for Nurses from India
Canada is actively seeking skilled nursing professionals from India to contribute to its growing healthcare sector. There are several pathways for nurses to immigrate to Canada:
Express Entry for Indian Nurses: This program includes the Federal Skilled Worker Program (FSWP), Canadian Experience Class (CEC), and Occupation In-Demand Stream. To apply, you'll need at least one year of relevant nursing experience and a job offer from a Canadian healthcare institution.
Provincial Nomination Program (PNP) for Indian Nurses: Each Canadian province has its own immigration pathway, and you can apply through the PNP if your occupation is in demand in a particular province.
Nova Scotia Immigration for Nurses in 2019
Nova Scotia, in particular, has been actively recruiting nurses from around the world to meet its healthcare needs. To apply, you typically need one to three years of nursing experience and at least a bachelor's or master's degree in nursing.
Quebec Skilled Worker Immigration Program (QSW)
Quebec offers the QSW program for internationally educated nursing professionals. This program allows you to obtain Canadian permanent residency without a job offer in Canada. Points are awarded based on factors like age, education, work experience, and language proficiency.
Canadian Work Permit – Temporary Residency Visa
You can also work in Canada as a temporary resident by obtaining a valid job offer from a Canadian employer. After working in Canada for some time, you can apply for Canadian permanent residency through programs like the Canadian Experience Class and Provincial Nomination Programs.
How to Register as a Nurse in Canada
To become a registered nurse in Canada, you must register with the Canadian Nursing Association (CAN) or the Canadian Council for Practical Nurse Regulators (CCPNR). The specific registration requirements are managed by individual provinces and territories in Canada.
Express Entry Process
If you're applying for a Skilled Worker visa, create an Express Entry profile once you've completed the educational assessment and language proficiency requirements. This profile is crucial for your immigration to Canada.
This guide outlines the steps and requirements for nurses looking to register and work in Canada. Whether you're from India or another country, Canada offers multiple pathways for skilled nursing professionals to build a rewarding career in its healthcare system.