All nursing professionals registered under the Karnataka State Nursing Council (KSNC) are required to renew their licenses and ensure they are kept up to date. Even if a nursing professional's certificate bears a life membership seal, it does not exempt them from the license renewal process, as KSNC does not have a life membership policy. For international verification purposes, a valid registration in the home country is mandatory. If a nursing professional possesses an expired KSNC license and lacks registration in India, they must still proceed with the renewal of their KSNC license.
The renewal of registration must be undertaken three years after the initial registration and subsequently every year thereafter. To initiate the renewal process, nursing professionals must visit the KSNC website, complete the registration, upload all the necessary documents, and submit the renewal fee of 2000 INR.
Once the online process is successfully completed, individuals need to book an appointment to visit the KSNC office for further verification and processing. Staying proactive in renewing licenses is crucial for nursing professionals to remain compliant with the regulatory requirements and continue practicing their profession without any interruptions.
Documents Required for KSNC Renewal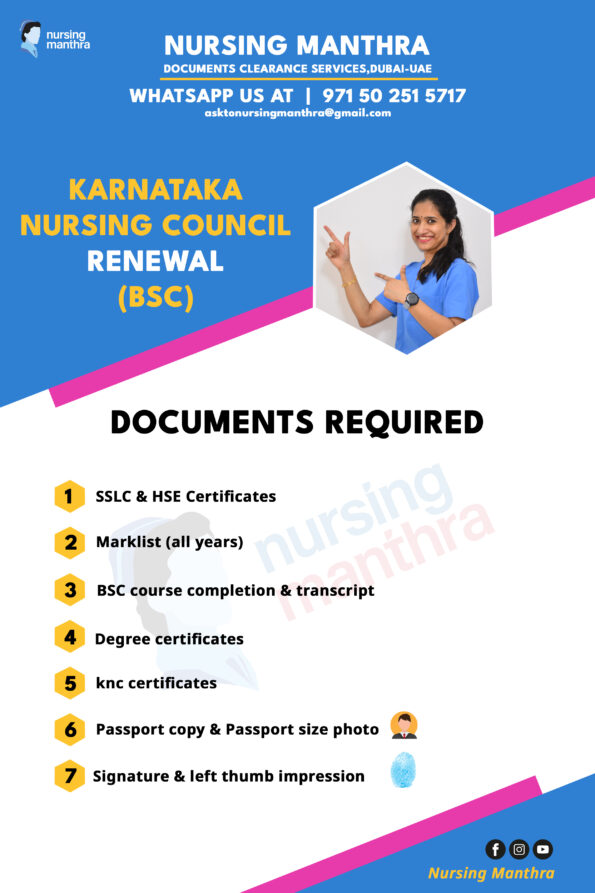 The Process at KSNC
Upon reaching KSNC, you need to show all the required documents, and the original registration certificate should be submitted there.
If you haven't done biometrics before, you will need to do so during the renewal process (fingerprint, digital photo, digital signature, etc.). If you have already done biometrics, there is no need to repeat it.
For any assistance with good standing and registration renewal from KSNC, individuals can contact the Nursing Manthra WhatsApp number.
It's essential to ensure that all information is up-to-date and verified with official sources, as processes and requirements may change over time.