Becoming a licensed healthcare professional in the United Arab Emirates (UAE) is a process that requires careful planning and adherence to specific guidelines set by the Ministry of Health and Prevention (MOH). In this comprehensive guide, we will walk you through the step-by-step process of obtaining your MOH UAE license as a registered nurse, assistant nurse, or registered midwife.
Step 1: Creating Your MOH Account and Initial Registration
Start by visiting the MOH UAE website and signing up for an account.
Fill in your personal information and attach the required documents, including your passport and a passport-sized photo.
Pay the initial registration fee using your preferred payment method.
After payment, submit your application for auditor approval.
Step 2: Data Flow Verification
You will receive an email notification with a data flow link and payment session details.
Data Flow Payment ID: MOH will determine which documents need to be sent to Data Flow and the associated costs.
If you have a previous Data Flow report, you may need to submit it; otherwise, you'll be asked to make a payment for all documents.
Wait for the Data Flow report to be processed, and you can check the status using your Data Flow case number and passport details.
Documents Required for Data Flow Verification: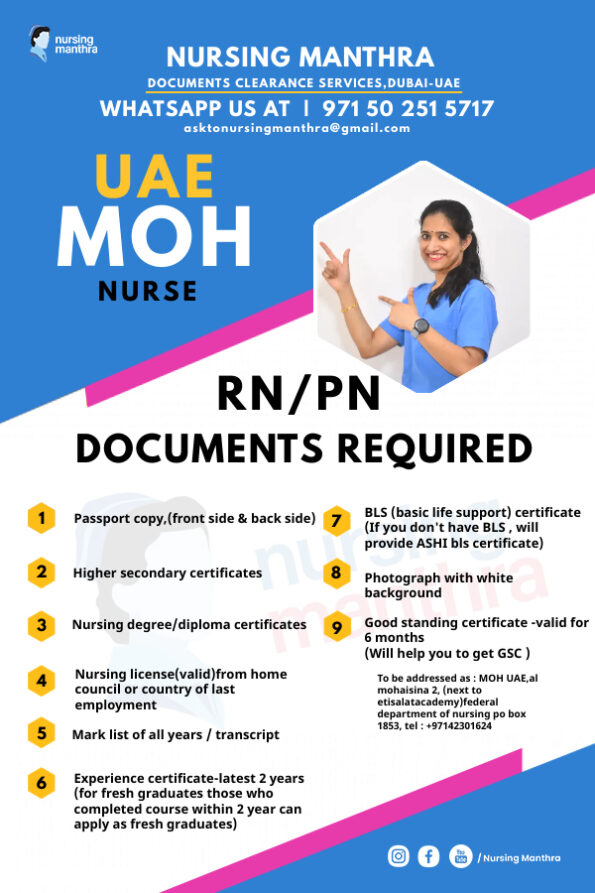 Degree/Diploma certificate with internship (if applicable)
Mark list/transcript
License from the licensing council (both initial and renewed copies)
Experience certificate (minimum of 2 years with minimal gaps)
Good standing certificate from the last employed licensing council
Step 3: Examination and Licensing
Once the Data Flow report is ready, an auditor will approve your application.
Search for examination date availability on the MOH website and book it through the Prometric website.
After passing the exam, submit your application for licensing approval.
Pay the certificate fee once it's approved by the licensing officer.
Download your evaluation letter from the MOH website.
Conclusion:
Congratulations! You've successfully navigated the MOH UAE license process and are now ready to practice as a licensed healthcare professional in the UAE. Remember to stay updated with any changes in the process and requirements.