HOW TO BECOME A REGISTERED NURSE IN UK-NMC APPLICATION PROCESS:
Application process steps
CBT exam details
3. OSCE exam details
Total cost of application
STEPS OF APPLICATION PROCESS:
STEP 1: DO SELF ASSESSMENT:
-Complete self assessment in NMC site. Once this is complete you will receive confirmation of eligibility and authorization to book the CBT exam, from the NMC.
Documents required:
1. passport –same name should be there for all application. Recheck before you submit application
2. birth certificate
3. eligibility check —proof of qualification of nursing and registration certificate which is valid. Qualification evaluation fee –140 pound
4. paperless –completely online process—quickly
5. mail to nursing council and university that you applied for overseas verification. nursing council verification from your education state council.
6.health related docuemnts —registered general practitioners –email id , name , phone number give to nmc
7. character certificate—online nmc website
8. police clearance—passport office through
9. nomination letter—2 reference letter
10. oet /IELTS—pass score -reference number for ielts
11. proof of training in English —transcript (medium of language and all details will be there in transcript)
Documents to upload to the NMC Portal:
Passport
Birth Certificate
Police clearance
Proof of qualifications
Documents to send by courier:(now online)-send mail
2 Employee references
Declaration of good health from GP
Transcript of training
Verification form from your nursing school
STEP 2: PASS OET/IELTS
Prepare well for English proficiency test. Get a good trainer and practice well, then only attempt exam, as examination attempt cost you more.
In IELTS, you have to score a minimum of 6.5 in Writing and 7 in the other subtests.
The score equivalent is required in OET, where at least C+ in Writing will be accepted but for the rest of the subtests you will have to score a B.
clubbing is possible.
STEP 3: PASS CBT EXAM: (theory)
you will get a mail from NMC within 14 days ,that you are eligible for CBT exam after submission of application. The CBT exam is a computer-based exam made up of theoretical practice-based knowledge. It is all multiple-choice questions (120 questions) and it will take place in a test Centre or can be completed online, depending on the country you are applying from. Exam centres availabel nearby pearsonvue exam centres. The exam costs £130 and will be refunded by the Trust upon arrival.
Exam results are emailed to candidates within 48 hours after taking the examination and you will be awarded either a pass or a fail. The CBT is valid for two years. The NMC will allow you to take the CBT exam a maximum of three times as part of your registration application. However, you'll need to wait at least 10 days between each exam sitting.
If you are unsuccessful after your permitted attempts, your application will close. You'll be required to submit a new application and will not be able to sit the CBT again for a minimum of six months.
NMC aim to process the application within 60 days, once we have received all required documents. When everything is completed, you will be invited to complete the OSCE exam in your assigned UK hospital.
Nursing MANTHRA will assist you for the exam booking process if applicant needs our support. Nursing manthra CBT review materials will help you to pass the exam. If you need materials, please contact me in my whats app.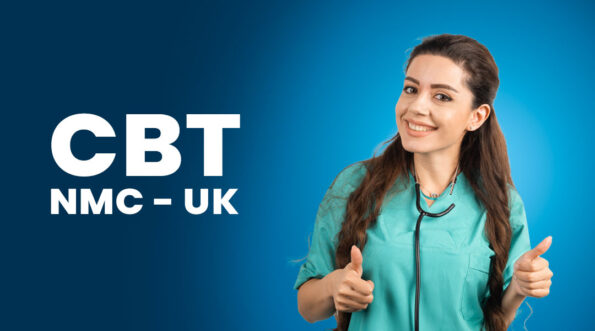 TOPICS TO COVER FOR EXAM:
Current overall pass marks:
| | |
| --- | --- |
| CBT EXAM | REQUIRED OVERALL PASSMARK |
| Adult nursing | 68% |
| Mental health nursing | 72% |
| Learning and disability nursing | 71% |
| Children's nursing | 71% |
| Midwifery | 63% |
NURSING CBT PLAN:
General nursing domains, generic competencies and essential skill clusters:
| | |
| --- | --- |
| Domains | Percentage of items from each domain included in the CBT |
| Professional values | Approximately 27% |
| Communication and interpersonal skills | Approximately 10% |
| Nursing practice and decision making | Approximately 33% |
| Leadership, management and team working | Approximately 13% |
| Unique and specific nursing field competencies within each domain | Approximately 17% |
MIDWIFERY CBT PLAN:
DOMAINS WITH ASSOCIATED COMPETENCIES AND ESSENTIAL SKILLS:
| | |
| --- | --- |
| DOMAINS | PERCENTAGE OF ITEMS FROM EACH DOMAIN INCLUDED IN THE CBT |
| Effective midwifery practice | Approximately 50% |
| Professional and ethical practice | Approximately 28% |
| Developing the individual midwife and others | Approximately 7% |
| Achieving quality care through evaluation and others | Approximately 15% |
STEP 4: Obtain a —COS-certificate of sponsorship:
After you pass CBT exam, you attend interview from your employer in UK. Once you got selected, they will issue you a certificate of sponsorship. The NHS trust or your hospital will give. In some countries the recruiters directly conduct interview and gives offer letter before completing the CBT and OET exam and will give time frame to complete process within 6 months. In UAE and all like that interview were conducted.
STEP 5: IMMIGRATION AND VISA PROCESSING :
Immigration and visa processing has to be done through an agency. You might need to pay a healthcare surcharge (called the 'immigration health surcharge' or IHS) as part of your immigration application (Around 1 lakh Indian rupees). your visa or immigration application is granted. For visa around 40000 INR (Indian rupees) you have to pay. Don't worry these amounts will get refunded from your employer or trust. Some agency will carry out all these charges by themselves and some will ask you to pay. Anyhow you have to keep all receipt for each payemnt you have made from starting and apply to trust to get refund of money. 10-15 working days you will get your visa stamped on your passport and it is valid for 1 month. Within 1 month you have to reach UK.
STEP 6: TRAVEL TO UK FROM YOUR COUNTRY AND JOB:
Travel to another country is always pleasuring and little worried also. Make sure you are carries necessary items required for your daily living. As UK is having cold climate, carry hot jacket, sweaters, woolen clothes, black shoe for uniform, kitchen utensils and spices required for cooking. The thing is shopping is bit expensive in UK, so better to carry important items which you required. Check the Airlines instruction for the items allowed to carry and weight of luggage etc.
Once you reached at UK airport from your hospital or trust people will be there to take you with their vehicle. You will get 1 month accommodation free of charge, some places rarely they will give 3-month accommodation ,especially inner side of UK. They will introduce the accommodation place. They will give some pounds as pocket money for your emergency expenses during this one month around 800 pounds. Always carry some pound with you when you travel to UK. For some emergency grocery shopping, drinking water etc. Because some times your pocket money will get after 2 days especially during holidays. I think around 50 to 75 pound is more than enough to carry with you.
Get your biometric residence permits card (BRP)—When you receive visa, you will get a letter which mention the post office details where you will get BRP card in UK. Make sure that after reaching UK within 15 days you have to collect it.
You can get sim card which cost 1 pound from any shopping Centre. Internet and calling charges are expensive comparing to other country. So select the one which is having international calling less price.
Open bank account –you will get one leaflet package with full detaisl from your employer. Letter from trust or employer will get to open account which mentions salary detaisl and other complete information about you .
Normally Duty hours will be 37.5 hours per week , about 3 to 4 days duty depends on which department you are working.
STEP 7: OBJECTIVE STRUCTURED CLINICAL EXAMINATION (OSCE):
This exam may only be completed in the UK. Once you have successfully placed in a hospital, you will be provided with an OSCE training programme by the Trust, followed by the final exam. You have three attempts to pass this exam.
This exam costs £992 and may be reimbursed by the Trust, depending on what hospital you are placed in. The exam is a practical exam and is made up of different nursing scenarios along with separate skills stations. Each station has a strict marking scheme in which all candidates are assessed against. You will be assessed by a panel of examiners.
The exam will take place roughly 4-6 weeks after starting in the hospital, this gives you a sufficient amount of time to adjust to your new working environment and become more comfortable with the apparatus etc.
A full refund will be given only if more than three weeks' notice is given of a cancellation or re-schedule. The following refund rates apply:
• Over three weeks of cancellation notice: full refund.
• Less than three weeks cancellation notice: no refund unless in exceptional circumstances, for which a medical certificate may be requested.
• No refund will be given for non-attendance or if no prior notice of cancellation is given (within the stated time above).
When you arrive, they will check the documents that you are required to bring. Once all your documents have been checked, your photograph will be taken and stored on our database. They store your photograph so that can prove that you are the person they saw in case of identity theft. You must wear the photographic ID produced at all times in the Test Centre. You will be asked to store your belongings in a small locker before moving to the waiting rooms, so please avoid bringing bulky clothing.
Unfortunately, they do not have room to allow friends or family, including children, to wait for you while you are taking the OSCE. Do not bring large suitcases to the assessment Centre as they have no storage space for anything other than for small handbags/rucksack.
Once you have entered the competence test Centre you will not be allowed to leave until the OSCE is finished. The use of mobile phones is strictly prohibited once inside the test Centre. You will be asked to turn off your phone and place it in the locker with your other valuables .Once your OSCE starts you will then be under exam conditions until your OSCE is completed in full. Prior to undertaking the OSCE the invigilator will provide a briefing on its format.
Employer will usually pay the examination fee and your ticket fee to university for the exam. Take the exam seriously. Most of the nationalities you can find Philippines and Indians more during training. Try to inter act with other nationalities, so that you will get some idea from them and can easily identify your mistakes.
The OSCE comprises six stations, each lasting between 8-15 minutes. Four stations will be scenario based and relate to four stages of the nursing and midwifery care process:
• Assessment- holistic patient-centered
• Planning
• Implementation
• Evaluation
Two stations will be testing practical clinical skills. Please remember that you will have done many of these nursing or midwifery skills several times before. Make sure that you read the station instructions and scenarios carefully. Do not be afraid to take the opportunity to look at them again if you are unsure. You will not be penalised for this.
Dressing during the test day:
• Clothing: Please dress as you would in clinical practice. In the UK this is normally a clinical dress, tunic or polo shirt with smart trousers or scrubs. You must not wear jeans or shorts. Nurses and midwives in the UK frequently wear dark plain trousers and plain polo shirts/tunics and where possible candidates should be dressed in a similar manner. Candidates who wish to wear alternatives, for example, because of cultural or maternity requirements, should discuss this with the competence test Centre before arriving for the OSCE.
• Shoes: Must be plain flat black, rubber soled, enclosing the whole foot and not made of porous or absorbent material.
• Fingernails: Must be kept short, unvarnished with no extensions or decoration.
• Hair: Must be tied up off the face and secured with simple hair ties/bobbles above the collar of your tunic or polo shirt. Hair should be of a natural shade and style. Facial hair should be kept clean trimmed and tidy.
• Head scarf / turban: Should you wear a head veil / turban, please ensure it is appropriate in colour (plain black or navy), and it must be tucked into the collar of your tunic or polo shirt.
• Jewellery: Plain "ball" ear studs are allowed to be worn (maximum of one per ear). No tongue piercings should be worn. A single plain band wedding/commitment ring is allowed. You must be bare beneath the elbow, no bracelets or wristwatches are to be worn.
• Makeup: Must be kept to a minimum and be discreet and natural.
• Socks / tights: Flesh coloured /black tights or dark blue/black socks with trousers.
Examination section:
a. Assessment station:
Previously you will get real patients, now due to covid pandemic mannequins are placed as patient. Please consider it is a real patient. You will get 5 minutes to read booklet which is provided with patient full information before entering patient room. Invigilator also will be there with you. Once you enter in patient room, you can see complete room set up as in the hospital with monitors, patient bed, calling bells, vital signs monitoring machines etc.
The examiner will introduce the room set up to you initially. If you have any doubt there for using a new machine like tympanic thermometer , you can request your examiner can you use once as trial. They will allow you.
Assessment station types of tools:
1. NEWS tool
2. neurological Assessment (GCS) TOOL
3. Observation form –vitals signs monitoring only
4. Patient health questionnaire (PHQ)
5. MUST—malnutrition universal score tool
Things to consider during exam:
Never get confused. Handwashing /hand hygiene is very must during entire exam process. Please make sure that at least one time you verbalize hand hygiene steps to your examiner. Follow strictly 5 moments of hand hygiene. Understand marking criteria for exam. Identify priority problem of the patient during assessment section which will help you make a good care plan at the end and will help you mistakes in care plan. Verbalize always whatever procedure you are doing to patient even you are taking any small things also.
b. performance station:
Typical skills which may be tested either on their own or within a nursing/midwifery scenario include:
• Administration of Inhaled Medication (AIM)
• Aseptic Non-touch Technique (ANTT)
• Catheter Specimen of Urine (CSU)
• Fluid Balance chart (FBC)
• In-hospital resuscitation (without defibrillation) (IHR)
• Intramuscular injection (IM)
• Mid-stream Urine and Urinalysis (MSU)
• Peak Expiration Flow Rate (PEFR)
• Removal of Urinary Catheter (RUC)
• Subcutaneous injection (SC)
• Paediatric BLS – infant and child (children's nursing)
• Auscultation of foetal heart (midwifery)
• Newborn examination (midwifery)
• Palpation (midwifery)
• Calculating drug dosages
• Hand hygiene
• Medication administration
• Physiological observations
• Safe disposal of sharps
• Wound care
OSCE RESULT:
| | | | |
| --- | --- | --- | --- |
| Result | Description | Outcome | Cost |
| Pass | Passed all stations taken | Congratulations! The NMC will be in touch to issue your NMC PIN. | N/A |
| Fail 1-4 stations | Failed up to four stations acrossboth the APIE and/or skill stations | Will require a resit at 50% cost. You will need to resit the stations you failed only. If you need to resit the APIE station(s) you will be given your original paperwork from the APIE stations you passed in your previous attempt, in order to complete the resit stations in sequence. | £397 |
| Fail 5-6 stations | Failed five or more stationsacross both theAPIE and skill stations | Will require a resit at 100% cost. You will need to resit the APIE station(s) you failed and the skill station(s) you failed. You will be given the same scenario and your original paperwork from the APIE stations you passed in your previous attempt in order to complete the resit stations in sequence. | £794 |
| Full Fail | Fail any station on their 3rd attempt. | Will require 6 months to elapse before you can reapply to the NMC. | N/A |
There are so many you tube videos which will help you to practice and understand OSCE.
STEP 8: IDENTIFICATION CHECK:
Applicants are required to attend a face-to-face identification check at NMC office in London.
At the ID interview produce your passport which you already submitted.
They will make final checks on your previous registration, and take a photograph for their records.
STEP 8: FINAL REGISTRATION:
once NMC has received notification that an applicant has successfully completed part two of the test of competence and the ID check, they will be invited to complete their final declaration and payment for registration online.
Once both have been received, you will be sent your PIN (personal identification number), confirming that you are fully registered with the NMC.
Your registration will then show up on the NMC register online.
If you have any assistance for application proces,do not hesitate to ask, and for CBT study materials ,you can whats app us on +971502515717-nursing manthra.