West Bengal Nursing Council:
website-https://wbnc.in/
Address of the authority:
Purta Bhawan, Room No. 302, 3rd Floor
D.F. Block, Sector – I, Salt Lake City, Kolkata – 700091
+ 91 (33) 2321 2059
[email protected] | [email protected]
Registration Renewal:
Application form which is given in nursing council website. You cna download it or when you go there get from council.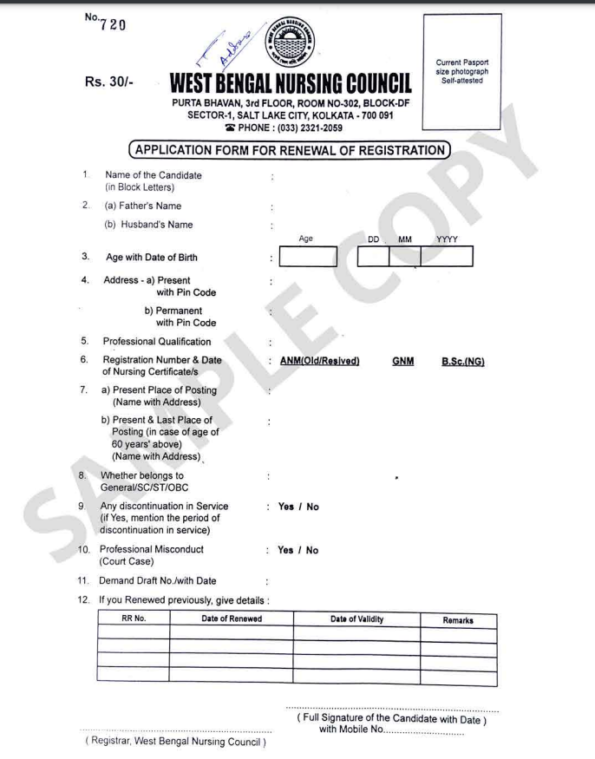 Renewal has to do every 5 years
If you are not working in west bengal -need to provide self declaration showing teh reason of non-employment
must produce old experience letter also.
current still working certifictae if you are working in provate sector , if governemnt sector no need fo experience
In experience certificate name shoudl eb same with registrtaion certificae
candidate has to present physically to council with all original documents
If canddiaet is working in abroad, may renew theior registrtaion certificate if teh rules and regulations of abroad verification of west bengal nursing council
fulfills adn teh registration will be renewed after recieving proper and authentic letter from appointing authority in abroad for renewal of registrtaion
fee payment is through DD or pay order from state bank of Indiaonly accepted
yellow card isued at teh time of renewal shoudl eb kept in safe custody .
proper application with number and date of diary made with police station follwoed by a fee of Rs. 100/-shoudl be submitted
Renewal fee is 400/- if renewal late adding late payemnt fee also
Abroad Verification-Foreign Verifictaion:
-Application must be complete and include all necessary documents and payment of fees.
-Any application received that is not supported by all the correct documentary evidence (include verification with Transcript) and the correct fees will not be processed and may be returned or withheld to the applicatant.
-Council cannot accept any faxed or emailed application or documents. Council can only accept payment by Cash / Draft (Indian Rupees.
-Any application received with payment of a different currency will be returned to the applicant and cannot be processed.
-Any use of correction fluid or correction tape on the application form or any documentary evidence cannot be accepted by Council.
Documents needed:
Age Proof Certificate (ie. School Admit Card where mentioned Date of Birth) – 2 copies Xerox [attested by Gazetted Officer];
Diploma in Nursing Certificate – 2 copies Xerox (attested by Gazetted Officer];
Renewed Updated Nursing Registration Certificate – 2 copies both side Xerox (attested by Gazetted Officer];
Parent Council Diploma and Registration Certificate (If candidate passed from Andhra Pradesh, Tamilnadu, Bihar, Jharkhand etc.) – 2 copies Xerox (attested by Gazetted Officer];
Graduation Certificate (B.Sc Nursing/M.Sc Nursing) issued from College/ University (If candidate passed from Andhra Pradesh, Tamilnadu, Bihar, Jharkhand etc. 2 copies Xerox (attested by Gazetted Officer];
The candidate must produce her All Original Documents at the time of submission of her Verification Form & application.
Transcript: This document may be obtained from different website – One Original and One Xerox.
Experience certificate details:
must be on official letterhead including a full address.
must state the employer's position, title.
must state the period of employment.
must state the functions and responsibilities of your practice.
must state "No Allegations or No Adverse Report" recorded against her till date of during her working period.
Fees–6000/- INR
NOC:
Fees:
No Objection Certificate to other states-500 INR
If you haev furtehr doubts please email to nursing council mail id or contact nursing council.
Thank you