Introduction:
Exciting news for healthcare professionals in the United Arab Emirates (UAE)! You can now seamlessly transfer your healthcare license from one regulatory authority to another within the UAE. This article outlines the step-by-step procedure for transferring your license from the Ministry of Health and Prevention (MOH) to the Dubai Health Authority (DHA).
Documents Required for License Transfer:
Before embarking on your license transfer journey, ensure you have the following documents prepared: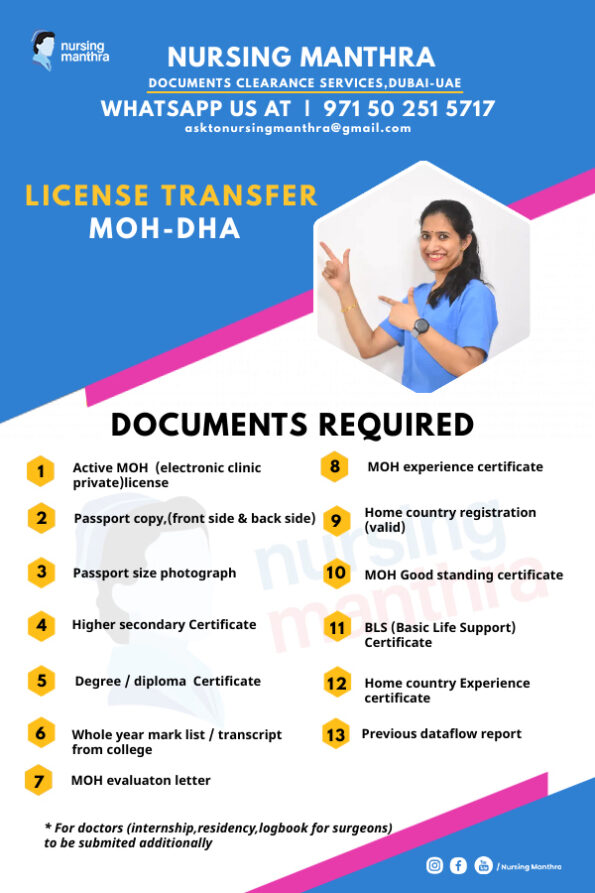 Passport copy
Passport-sized photograph with a white background
Degree or diploma certificate
Transcript or mark list
High school or higher secondary certificate
Home country license (both initial and renewed copies)
MOH License card
Experience certificates from MOH facilities (with a minimum of 6 months)
Other experience certificates
No Objection Certificate (NOC) from your current facility if you are still employed
Good standing certificate from MOH
Basic Life Support (BLS) certification (optional for some professionals)
Professional CV
Old Dataflow Report
The Transfer Procedure:
Here's a step-by-step guide to transferring your license from MOH to DHA:
1. Sign Up for a DHA Account:
Create an account on the Dubai Health Authority's website.
2. Eligibility Check:
Perform an eligibility check to ensure you meet the criteria for license transfer.
3. Apply for Dataflow:
Apply for Dataflow and include your old Dataflow report from MOH. Additional Dataflow verification will be conducted for your MOH License and experience.
4. Exam Exemption:
Once Dataflow verification is completed, you can apply for an exam exemption.
5. Application Submission:
Submit your application along with the required documents.
6. Payment for DHA Eligibility Letter:
Pay the fee for your DHA eligibility letter.
7. Receive DHA Eligibility Letter:
Upon receiving your DHA eligibility letter, you can start your job search.
8. Employment Offer and License Application:
When you secure a job offer from a DHA facility, the facility will initiate the process for your DHA license.
Note: If you previously attempted the DHA exam and did not pass, you may still be eligible for a transfer if you can demonstrate your capability to pass the exam.
Conclusion:
Transferring your healthcare license from MOH to DHA opens up new horizons for your career within the UAE's healthcare landscape. Whether you're a nurse, physician, therapist, or any other healthcare professional, this streamlined process allows you to explore diverse opportunities.
If you require assistance with the licensing procedures or have any questions, please feel free to contact us via WhatsApp.
With this license transfer process, you're one step closer to achieving your career goals within the UAE. We're here to guide you through every stage of this exciting journey!