Pakistan Nursing and Midwifery Council: PNMC
Website-https://pnmc.gov.pk/
Address:
Pakistan Nursing and Midwifery Council, PNMC building, PM National Health Complex, NIH, Chak Shehzad, Islamabad (45500). Pakistan
Phone: (+92)-51-9255805
Email: [email protected]
Web: www.pnmc.gov.pk
Note:
*Registration renewal, foreign verifictaion and good standing is Online.
Verification of Registration/Good Standing Certificate:
Application Form for Verification of Registration/Good Standing Certificate:
Application form: https://pnmc.gov.pk/verification-registration/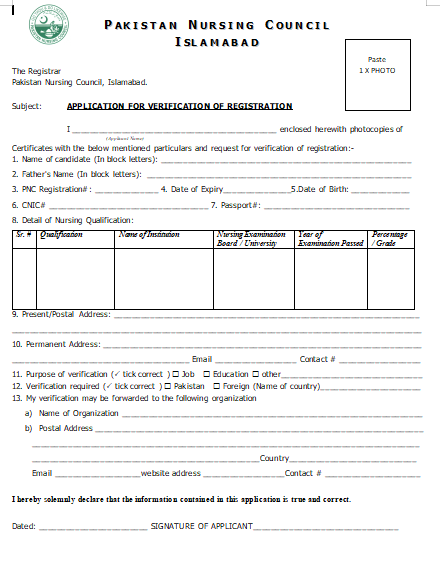 Requirements for foreign countries:
Application form for verification of Registration/Good Standing Certificate
Processing fee PAK Rs.10000/-
Letter/Verification form/email print with complete address of the council/regularity body/ organization where your verification is required/needed to be sent.
Photocopy of your PNMC/PNC registration Card and all Nursing, Midwifery, LHV, Post Basic Diplomas, and Degrees.
NMC UK Verifictaion at PNC:
How to process the PNC verification application for NMC UK?
*NMC UK has been sending PNC verification requests for PNMC-registered nursing professionals, but unfortunately, many of these requests remain pending due to incomplete PNMC verification requirements.
*To expedite your NMC UK registration process, we strongly advise all nursing professionals who have applied for NMC UK registration to promptly initiate the PNMC registration verification process as outlined above.
*Please note that PNMC will not proceed with NMC cases until all requirements are met. Your cooperation is greatly appreciated.
Contact PNMC:
*If you face encountering challenges, seeking updates to their Good Standing/Verification certificate, or wishing to share additional documents can reach out to us at the following email address.
*Please note that this email address is exclusively for Good Standing/Verification certificate-related updates for nursing professionals registered with the PNMC.
*They will respond to your email within 3 working days. In case you do not receive a response from the PNMC after three days, you may consider sending a reminder.
Email Address: [email protected]
Example email for better understanding:
Subject: Request for PNMC Good Standing Certificate Update
Dear PNMC GSC Support Team,
I hope this message finds you well. I submitted my application for a PNMC Good Standing Certificate on October 1, 2023, but I have not yet received any updates regarding the status of my certificate.
Could you kindly provide me with information on the progress and expected timeline for my request? I would greatly appreciate your assistance in this matter.
Here are my details for your reference:
Name: Mr………..
CNIC No.: 00000000000000
PNMC Registration No.: 00000000
Mobile No.: 0000000000
Email Address:
Thank you for your prompt attention to this request. I look forward to your response.
Best regards,
Your name and signature
Registration Renewal Process:
NOTICE: Applications will only be accepted if the system generated application copy with required documents is submitted by postal mail or brought directly to our office for processing. Faxed or e-mailed applications will NOT be accepted.
Before starting the registration for renewal process, please scan the following documents and the size of the scanned the following original documents should not exceed 3MB (each)

I. Your National Identity Card.
II. Your attested copy of academic certifcate (if you are studying).
III. Your Passport size photograph.
IV. Above all documents should be Image Format JPEG(*.jpg;* .jpeg;).

Renewal will be made every 5 years' interval from the date of Registration.
All Registered Nursing Personnel are allowed to renew their Registration Certificate.
If employed in any Government Sector, employer certificate is not necessary. If employed in Non-Government Sector he/she must have to submit current employer certificate on the day of Renewal and have to be present physically.
The Pakistan Nursing and Midwifery Council has every right to make modifications, additions or alterations in the rules and regulations of Renewal of Registration with Prior permission of the Council.