GETTING A DENTAL ASSISTANT LICENSE: TWO KEY STEPS – DATAFLOW VERIFICATION & THE EXAM
For those seeking a Dental Assistant license, make sure you have these necessary documents: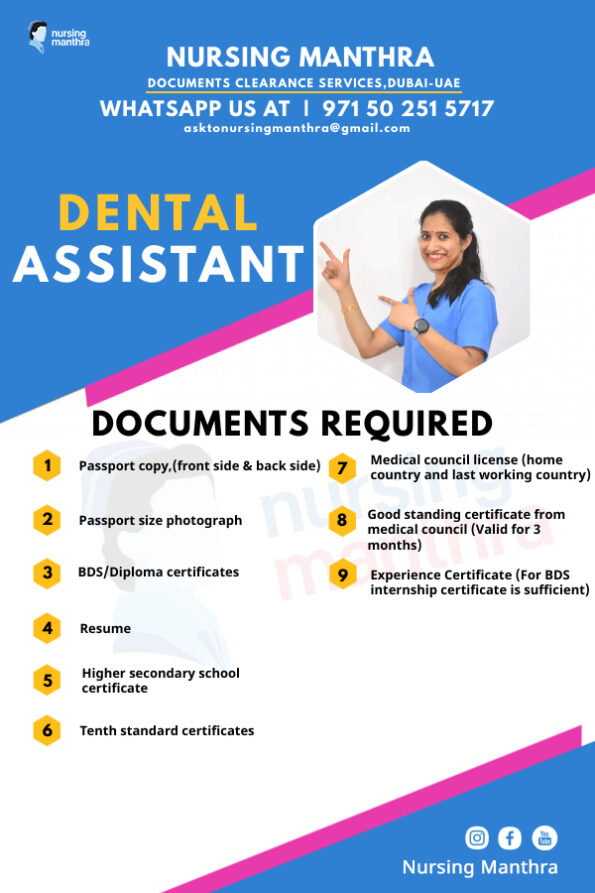 A copy of your passport
Your +2 certificate
Degree or diploma certificate
Valid registration from the Paramedical council
Transcript or mark list
Experience certificate covering the last two years
Your mobile number and email ID
A passport-sized photo
Good standing certificate from the council (Sometimes not needed)
Step 1: Dataflow Verification Process:
Follow these steps to begin the dataflow verification process:
Sign up on the Data Flow website and provide your personal details.
Complete the dataflow registration and attach a signed Letter of Authorization (LOA).
Undergo dataflow verification for your education, license, and experience. The dataflow fee is approximately 1000 to 1200 AED, plus 310 AED for extra documents.
Pay the fee using your credit card. The dataflow process generally takes 35 to 40 days.
Notify your employer about your document submission for verification, so they're prepared for any inquiries from authorities.
Always ensure you're using genuine documents to avoid negative dataflow reports.
Keep an eye on your emails for dataflow alerts, in case additional documents or employer contact details are needed.
Upon receiving the dataflow report, confirm it's linked to your account before proceeding.
Step 2: CBT Assessment (Exam):
Prepare for the exam with these steps:
For DHA, Qatar Prometric, Oman Pearson VUE, and NHRA Bahrain Prometric exams, you can take the exams without completing the Dataflow process. You can choose to attend the exam prior to starting Dataflow.
For MOH UAE, Saudi Prometric, DOH, and other exams, approval is necessary before you can take the exam. After receiving exam eligibility, proceed to book the exams.
Choose your exam location and date and make the necessary payment.
Ensure your exam application name matches your passport details exactly.
Attend the exam and expect your results within 3 days. You have three attempts to pass.
Videos for Licensing Application with Different Authorities:
For Assistance and Contact:
For any support during the licensing application, you can reach out to Nursing Manthra through WhatsApp.