If you're looking to kickstart your career as a Central Sterile Services Department (CSSD) Technician in UAE, this article is your ultimate guide to obtaining a CSSD Technician license. Let's dive into the step-by-step process.
Step 1: Check Eligibility and Create DHA/MOH/HAAD Account
The journey begins by signing up on the website and verifying your eligibility for the CSSD Technician role. Once eligible, you'll receive a unique identification number, which you'll need for further steps.
Step 2: Data Flow Verification of Your Documents
What is Data Flow Verification (PSV)?
Data Flow Verification, also known as Primary Source Verification (PSV), is the process of verifying your educational and professional documents from their original sources. This step ensures the authenticity of your credentials. Here's what you need for PSV: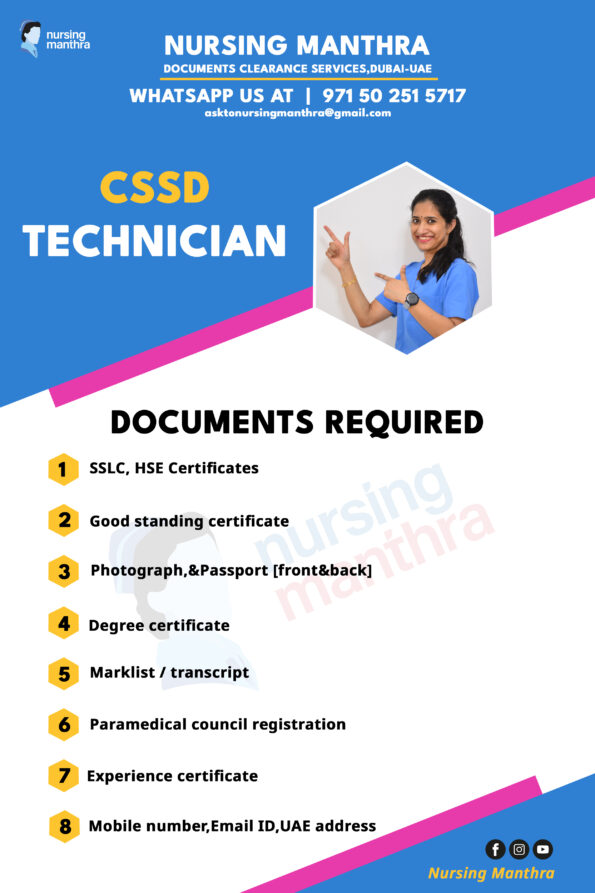 Associate degree in CSS technology (minimum 2 years course duration)
Certificate in any health-related field with certification from a recognized body like the Certification Board of Sterile Processing and Distribution (CBSPD) or the International Association of Healthcare Central Services Material Management (IAHCSMM).
Mark List/Transcript (if you don't have a mark list from the university, submit a sealed and signed transcript from your college with year-wise subject details, mark lists, internship details, etc.)
License (from your home country's paramedical council, including initial and renewed copies)
Experience Certificate (a minimum of 2 years' experience with no more than a 2-year gap, ideally from one employer)
Data Flow Process:
Sign up for a DHA/MOH/HAAD Data Flow account using your email ID and unique identification number.
Upload a signed Letter of Authorization.
Create a new case and select your profession.
Fill in your educational, internship, license, and employment details accurately.
Upload all required documents with precision.
Submit your application and make the payment using international debit or credit cards.
Step 3: CBT Assessment (Exam)
DHA/MOH/HAAD will provide dates for the Oral Assessment (CBT Exam). Schedule your exam and make the necessary payment. An interview panel will conduct a viva, and the results will be published on the website.
Step 4: Submission for Eligibility Letter
Once you've successfully completed the Data Flow and the CBT Assessment, it's time to apply for the eligibility letter. For this stage, you'll need to submit the following documents:
Good Standing Certificate from the paramedical council of your last workplace.
Basic Life Support certification.
Passport-sized photographs.
A copy of your passport.
Higher Secondary Certificate.
Your resume.
Ensure that your Data Flow report is linked with DHA/MOH/HAAD before submitting and making the payment (approximately 230 AED). You can expect to receive your eligibility letter within 2-5 days. With this letter in hand, you're ready to pursue job opportunities in UAE. Once you secure a job and receive an offer letter, your employer will initiate the licensing process.
Congratulations on taking this significant step toward a promising career as a CSSD Technician in UAE. Best of luck with your future endeavors!
For any assistance with the Licensing process, feel free to contact us via WhatsApp.