If you're a General Practitioner (GP) aspiring to practice medicine in the UAE, you're in the right place. The UAE offers a well-structured process for healthcare professionals to obtain their licenses, ensuring quality and authenticity in healthcare services. In this guide, we'll walk you through the steps required to secure your UAE healthcare license.
Step 1: Gather Your Documents
The first step in your journey is to gather all the necessary documents. The specific requirements may vary depending on your profession, so it's crucial to reach out to us via WhatsApp for a tailored list. Generally, you'll need your educational certificates, professional qualifications, work experience certificates, passport copies, and any other relevant paperwork.
Step 2: Check for Experience Gap
Ensure that there's no more than a 2-year gap in your professional practice. If a gap exists, you can still apply for the process, but you must complete the required experience within the 2-year gap ending to activate your license.
Step 3: Documents Required for General Practitioners (Doctors)
For doctors, additional steps and documents are involved: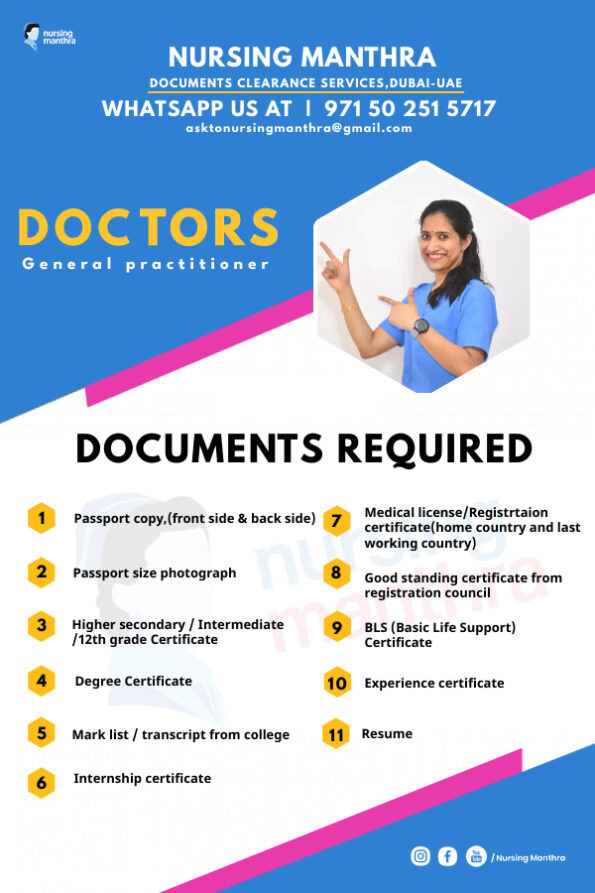 Data Flow Verification: This is a crucial step to verify the authenticity and accuracy of your provided information. It's essential to submit genuine documents and maintain transparency throughout the process.
Attend the Prometric Exam: General Practitioners are required to take a Prometric exam. You have a total of three attempts to pass this exam, with a waiting period of 2 years before reattempting if you fail all three times. The exam consists of 150 multiple-choice questions (MCQs), has a duration of 165 minutes, and requires a passing score of 60%.
Apply for the Eligibility Letter: After successfully passing the exam and meeting all other requirements, you can apply for the eligibility letter. This letter is valid for 1 year.
Search for a Job and License Activation: Armed with the eligibility letter, you can begin your job search in the UAE. Once you secure employment, your employer will facilitate the activation of your UAE healthcare license on your behalf. The license's validity can be renewed based on specific terms and conditions.
Fees for the Complete Healthcare License Process for General Practitioners:
The approximate total cost for the complete healthcare license process for General Practitioners ranges from 2800 to 3000 dirhams. Additionally, any extra services, such as applying for a good standing certificate, will incur additional fees.
If you require assistance with the UAE healthcare license process or need study materials, please don't hesitate to reach out to us through WhatsApp. You can also send your documents to our email at [email protected].
With this comprehensive guide, you're well-equipped to embark on your journey toward obtaining your UAE healthcare license as a General Practitioner.