How to apply for Trainee Pharmacist in UAE for those who don't have experience after Pharmacy graduation programme.
Today I will discuss about Dubai Health Authority trainee eligibility and license how to obtain.This service enables pharmacy graduates to obtain training as pharmacist and assistant pharmacist in private pharmacies to compensate the required experience.
Requirements:
pharmacy graduates with less than 2 year experience
having residence visa in UAE
Trainee accepted by approved facility
Positive data flow report
Approval from regulator
Benefits:
you can Fulfill gap in practice
you will Get exposure in UAE working atmosphere which will help you to secure job easily after your training.
On the job training
Get paid for your work depends on your facility.
Process steps:
In DHA Sheryan account -sign up. Do data flow verification for your degree/diploma, license .Do CBT assessment for trainee pharmacist. It is computer based mcq have to attend in any pro metric centre. After passing your exam and completing the data flow report, of education and license components from the country where you studied, then Apply for eligibility letter .It cost you 220aed. You have to upload trainee acceptance letter from the facility where you got selection for training.
Once you obtain a trainee pharmacist eligibility letter, with this eligibility letter as trainee pharmacist you can activate license in private pharmacies.Eg:Aster pharmacy, Life pharmacy etc.You have to provide license activation fee more than 1000aed. Trainee clinical pharmacist in hospitals in UAE like American hospital, Burjeel hospital, Zahra hospital , Saudi german hospital etc. Each pharmacy having their on protocols for selection of applicant as trainee pharmacist.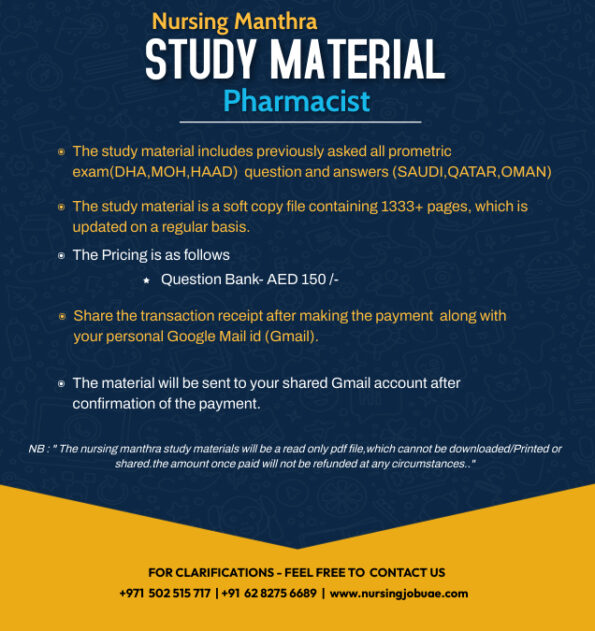 Documents required for the process:
B.Pharm certificate and whole year mark list/transcript
Pharmacist Regstration certificate in pharmacy council where you had your studies.
Good standing certificate from pharmacy council
Passport copy
Passport size photo
Experience certificate if you have-old for those who have gap of practice more than 2 years.
Positive Data flow report
Trainee acceptance letter from the pharmacy
Duties can be performed as trainee pharmacist:
You will get training for all products basics which is available in that pharmacy. Establish a customer dealing skills during your training. Gym products and vitamin supplements learn about each products other than your text book knowledge. OTC medicines -Over the counter medications –you can deal-but always check agency protocol. Some facility will not allow that also. Make sure that you are not allowed to give information about medicine to your clients or customer , that is the responsibility of registered pharmacist, even though you know everything.
After 6 month of training , you will learn slowly about insurance dealing with pharmacy bills in UAE. The facility will provide you a trainee badge ,Make sure that you are wearing it everyday. Duty timing is facility choice. So follow facility policy.Your Incharge will decide your duty timings.
During your training ,Try to learn effectively during the training programme, so it will help you to write the CBT exam for registered pharmacist. There will be internationally approved policy and guideline for pharmacy. Please be familiar with all those policies, so that it will help you for your exam and interviews.
how we will get trainee acceptance letter from pharmacy:
As you know that there is APS-approved practical setting–APS facility listed pharmacies only can provide you the training , not all pharmacies.
In some pharmacy there is online application for trainnee pharmacist application. .Eg: life pharmacy. You can check with each pharmacy their website -in portal they will mention all the process or contact that pharmacy directly.
I will discuss the application process in Life pharmacy,UAE. This data I collected from one of my client who got appointed as trainee pharmacist there. Please note that there may be changes also for this process. Anyway,I thought to give a rough idea about the process
Search for life pharmacy website. Go to career portal-apply for position of health care role-fill up the form which is given in the site. Please note that you can apply if you have , UAE residency/permit/visa needed most of the pharmacies asking for that. Some companies will provide you visa also ,if you are ready to pay to them. There will be interviews and they will send mail with offer letter . Some companies 3 months without salary and after that only offer letter is issued. 2000 aed to 2500 aed you can expect the salary during the training. Upon receiving your offer letter , you can request for trainee acceptance letter and apply in DHA sheryan portal.
Once you gets approval from DHA, facility will activate your license. Please note that , Your experience duration starts only after license activation in DHA. Once you complete 2 year experience in that pharmacy, you can write Registered pharmacist exam in DHA. It is prometric exam -CBT. Take 2 year experience letter from company , then do data flow and apply for Registered pharmacist eligibility letter after passing exam.
I just shared the information which is collected through various sources. Any changes or updates, please notify through whats app. If you need more clarification or assistance for the process,
Please contact Nursingmanthra Whatsapp number- +971502515717