Assam Nurses Midwives & Health Visitor Council:
Webiste–https://assamnursingcouncil.com/
Address of the council:
Assam Nurses' Midwives' & Health Visitors' Council
Six Mile, Khanapara, Guwahati-22
E-Mail: [email protected]
Registration Renewal from Assam Nursing council:
Application form will be accepted only when it is enclosed with attested true copy of:-
 Diploma/Degree Certificate of B.Sc. Nurses /ANM/GNM.
 B.Sc. Nurse/G.N.M/A.N.M registration certificate.
 Passport size photo with proper uniform duly attested and submit 2 copies without attested with standard size i.e. 3X4 cm2
.
 H.S.L.C. Admit Card.
 Identity Card with proper home address. (Office I-Card with validity/Voter ID/DL/Aadhar Card/Indian Passport/Bank passbook etc..
needed anyone of it)
 CNE Certificate/ Attended Seminar/ Conference/Scientific Paper Presentation/Publication /Training are to be enclosed if any for
credit points.
Application form, completed in all respects, should be sent to the Registrar, Assam Nurses' Midwives' & Health Visitors' Council,
Six Mile, Khanapara, Guwahati-22 along with registration fee of 200/-
Payment should be made only through Online Payment, link is in the website (www.assamnursingcouncil.com).
The Certificates are to be received only by the applicant.
Online payment receipt should be submitted along with this form.
N.B:-Original Registration Certificate is required for Renewal Validation and date for next renewal.
Application form copy: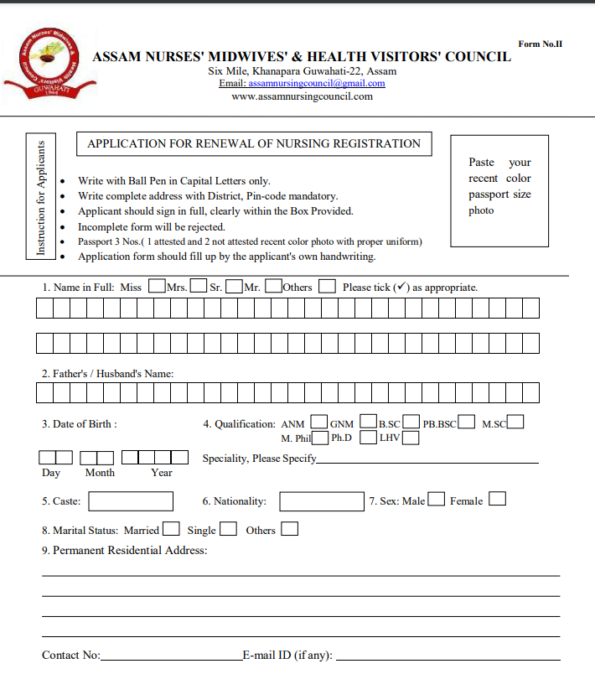 Regarding good standing and foreign verifictaion details are not seen website.
The canddiaet can contact nursing council adn send an email also to registrar regarding teh verifictaion details.
Thank you